Testimonials
Sammie L. - 2011 Ford F150
Happy! Happy! Thanks for a great deal. Friendly and courteous service. God Bless!! Thanks.
Bert G. - 2003 GMC Envoy
Great friendly service. Sales Rep was nice & polite and met all of my needs.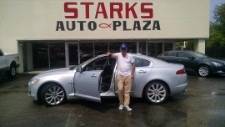 Mark S. - 2011 Jaguar XF
Very Plesant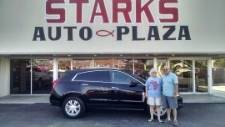 Judy R. - 2013 Cadillac SRX
Saw car in Merchandiser. Mike was friendly and knowledgeable.
Thomas H. - 2009 Saturn Sky
One of the greatest experiences I've had in buying a car. I recommend this car lot to everyone.
Michael I. - 2014 Chrysler 200
Thanks for the customer service especially from the distance of Jacksonville to Jonesboro.
Anonymous - 2007 Chevrolet Silverado
Great!
Lois S. - 2014 Chrysler 300
Everyone was professional, caring, & knowledgeable. I will recommend to others. So thankful/grateful.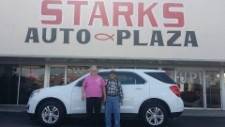 Mr. & Mrs. Goodman - 2015 Chevrolet Equinox
(Daughter's comments) Thank you for being so great in the sale of my dads equinox. All of you were just as nice as could be. God will truly bless your business. It was so fun talking with you.
Bill N. - 2013 Nissan Altima

Everyone was very helpful and wonderful!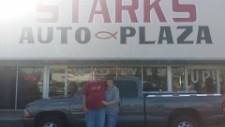 Robert L. & Nancy M. - 2002 Dodge Dakota
Thank you, Tim. We certainly will send more business your way - we appreciate your patience!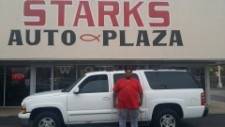 Michael W. - 2001 Chevrolet Silverado
I really really like Starks Auto Plaza. They have the best deals and great customer service. I will be coming back.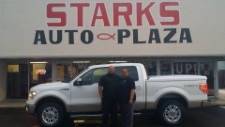 Taggart Family - 2014 Ford F-150
It was very good.
Anonymous - 2007 Pontiac G6
My car buying experience was the B-E-S-T. The staff was very helpful and polite. Thank you again!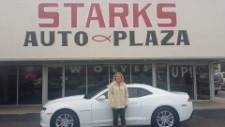 Barbara B. - 2015 Chevrolet Camaro
I feel blessed to deal with Starks. We felt at home and comfortable. I will recommend Starks to everyone I know who is buying a used car.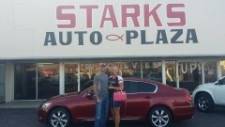 McQuay Family - 2008 Lexus GS
Excellent service!!
Sep 20, 2017, Steve R.
We often talk about integrity but we seldom see it nor do we live it. I must tell you about Tim Starks. A young man in my youth group recently purchased a vehicle from Stark's Auto Plaza. There were some issues in the transaction but Mr. Starks stepped up and made sure this young man has a dependable vehicle. I never dreamed a used car dealer would give this kind of service. Most are only interested in the sale. Stark's values their customers. Tim went above and beyond. Today I witnessed integrity first hand. Thanks, Tim and the gang at Stark's!!
Aug 18, 2017, Anthony A.
It had been a long time since buying a car, Tim made me comfortable with no high pressure. It was a busy day but Tim did a great job. His kids were very helpful and polite during the whole process. Starks will be the first place I look for any future car buys. Thanks Tim
Apr 24, 2017, Kyle B.
A+ service, pleasure to work with.
Apr 3, 2017, Krystal D.
Excellent job on getting me the car i wanted. Excellent customer service from sales associate Michael hooks .
Mar 14, 2017, Josie M.
Great customer service very friendly people thanks Rico
Mar 10, 2017, Tim C.
Was very helpful. Best selection of used cars in Jonesboro. We found exactly what we wanted.
Mar 7, 2017, Mark W.
Your Pre-Owned Superstore...amen 4 the customer that doesn't want to buy new. Amen again!
Mar 3, 2017, Terry C.
Fast & Friendly Service. He gave me the best price in town for my trade in and I got the best price in town for the purchase i made. I will continue to do business with Starks and would recommend anyone else to give them a chance to service you.
Mar 3, 2017, Sharlon L.
Very professional!!!...I'll recommend anyone to come and purchase a vehicle...One of the best experience ever.
Feb 11, 2017, Gerald W.
Honest salesman,respect and understanding,no run around and a great staff. Thanks to Mr. Tim for speedy financing and my salesman Rico for being so attentive to my needs. Give Starks Auto Plaza a look and see for yourself, big selection and bigger savings.
Feb 3, 2017, Marian S.
Best customer service and quality vehicles to fit every need. Highly recommended
Jan 23, 2017, Louanne A.
Very friendly staff.
Dec 22, 2016, Cortez R.
I am really enjoying my 2014 Altima. Thanks Starks Auto.
Dec 22, 2016, Jacqueline C.
Thanks Tim and Starks Auto staff, I got a great Chevy Cruze and it didn't take all day. Great Service
Dec 17, 2016, QUINTON W.
Best place to buy a car
Dec 17, 2016, Robin Q.
I am extremely happy with my Chevy Malibu. I had some reservations about purchasing a pre-owned vehicle. I was wrong! I travel to and from Little Rock extensively and have had absolutely no problems. This was a great purchase AND the service I received from Stark was top notch! Thank you.
Dec 14, 2016, VALISYA C.
Great service and will be back for future purchases.
Dec 13, 2016, BRIAN D.
One of the best car buying experiences ever! Tim is such a caring dealer and owner. Hard to find a good Christian dealership that is fair and HONEST. They'll do what they can to earn and respect your business. We will continue to buy from Starks!
Dec 12, 2016, BERT G.
We were very pleased with the sales person we met. He was persistent but it was to our advantage.
Dec 8, 2016, ALLIE J. H.
Battery messed up less than a month after I got the car but once I replaced it the car has been running great!
Dec 6, 2016, ROY S.
That's cool but everybody I've talked to are not going to tell me what date there coming exactly... But I'll try and make sure if it's feasible... Thanks and Appreciate you...
Nov 29, 2016, Anonymous
They worked hard for me. Very nice.
Nov 28, 2016, Glenda B.
Salesperson was very polite and answered all questions. Very nice sales people.
Nov 22, 2016, Anonymous
Very nice people.
Nov 22, 2016, Brent M.
I bought a jeep from them and was referred by a friend. The jeep didn't have a scratch on it and was the best deal I have found on one like I was looking for. I have been in the market for one for 4 months so I knew the value well. they told us that she would get $200 for the referral. She got it within a few days. They keep their word and are honest. I will do business with them again.
Nov 21, 2016, Anthony H.
Great
Nov 18, 2016, Teresa H.
Amazing service! I'm referring everyone I know that's looking for a vehicle to Starks Auto Plaza to see Tim. He and his assistant were so cheerful. I've been bragging about my experience with him since I got my vehicle.
Nov 11, 2016, Kangela W.
Starks Auto Plaza is the place to go for a nice used vehicle for a very low price and low mileage you can't go nowhere else and get a better deal.